Guatemala's flag symbolizes the country's independence and has more than 130 years of history.
Guatemala created its flag as a badge of identity and history of the country. It represents not only the Revolution of 1871, but also the pride, strength and sense of freedom.
The Flag Day is celebrated in Guatemala on 17 August and is a national holiday. It isn't a day that many celebrate as only special activities are held in government institutions, banks, schools, etc.
The Guatemalan Flag has two colors: sky blue and white. The white stripe represents the territory located between the Pacific Ocean and the Caribbean Sea. It also has to do with purity, integrity, faith, obedience, firmness, vigilance and peace.
The blue color symbolizes justice, loyalty, gentleness, strength, the Guatemalan sky and the two seas that wash the shores. In the center appears the Coat of Arms.
The design is based on the flag of the United Provinces of Central America, which in turn was based on the flag of the United Provinces of Río de la Plata, now Argentina. The flags of other countries of the United Provinces of Central America follow this pattern.
The flag of Guatemala has gone through several changes over time.
The First Flag: Guatemala gained independence from Spain on September 15, 1821, but it was not until August of 1823 that created the coat of arms and flag of the Federal Republic of Central America which had been composed of five states.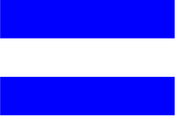 The Second Flag: As each Central American state had its own state laws, Guatemala created its own flag by decree of the State Assembly on January 20, 1825.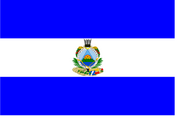 The Third Flag: The third flag modified its shield by the Constituent Assembly decree of 1843.
The Fourth Flag: This change was made in 1851 by General Mariano Paredes after the General Lieutenant Rafael Carrera founded the new Republic of Guatemala in 1847.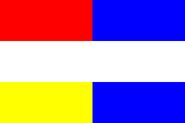 The Fifth Flag: The very same General Rafael Carrera again changed the flag in 1858 by the corresponding decree and after approval by the House of Representatives.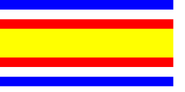 The Sixth Flag: The sixth flag and national emblem were created in 1871, with General Miguel Garcia Granados as president. Is attributed to Swiss artist Jean-Baptiste Frener the shield design.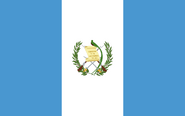 The Seventh Flag (current): In September 15 of 1968, President Julio Cesar Mendez Montenegro promulgated governmental agreement whereby it was agreed the "Regulations on Colours and Design of the National Flag and Coat". This is the flag that must be used officially in Guatemala. In December 1997, during the government of President Alvaro Arzu Irigoyen the law was ratified.